Facebook & Instagram
Manage & engage new and existing leads
Now you can easily manage new and existing leads and potential leads very easily by following up and tracking their activities on multiple platforms, Facebook being one of them.
Get the interested leads' profile details
You can also view and obtain every user's profile details that come up on Facebook and then, thereafter, analyze their key interests and then extend the reach.
Segregate your leads as their differential characteristics
Analyze the key preferences of the potential leads and segregate them, considering all the characteristics related to the lead's nature, budget line, and other factors as well.
Pre-set responses to be given based on the type of lead inquiry
We let you set the pre-set responses for the existing customers and potential leads considering the type of inquiry they do regarding their respective interests. This will make your customer interaction quick and will retain the potential lead as well.
Get Quote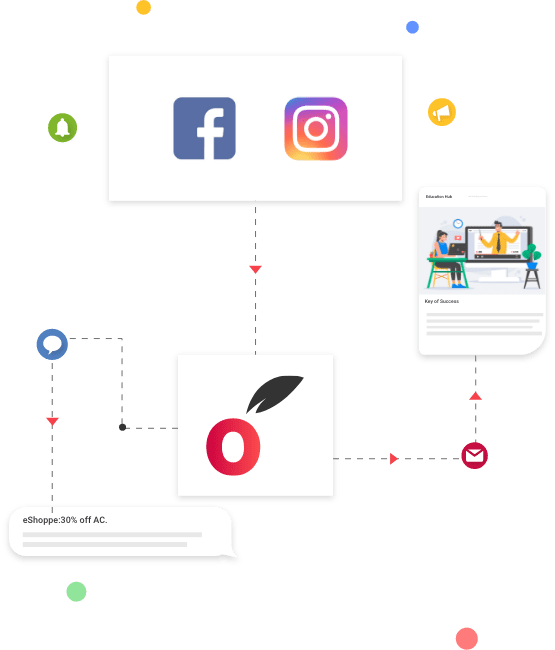 Capture business leads directly from Facebook via Facebook Integration
Keep your business go on without letting any lead going in vain by formulating our Facebook business integration right away.
In today's time, business promotions happen mostly on social media, and Facebook is one of the most popular social media platforms to advertise and publicize the business and products & services. We at Cronberry, understand how vital every single lead is. Therefore, we provide a marketing automation tool to enable the enterprises to foster facebook ads integration with overall capturing of leads. We believe that every lead should be analyzed well and converted into real-time conversion. Thus we provide a perfect marketing automation tool wherein the user can track all the leads coming up on Facebook and thereby never let your business miss any lead thereof. So, be it the price or the service quality, we'll never let you down anyway and, therefore, let you go ahead without missing any lead ever.