Enhance the User Connectivity with quick Push Notification Service
Never let your users go out of your brand. Send them personalized push notifications boosting more conversions and better customer experience.
For a brand, it is very important to regularly interact or remind its users about what's new in the market. Therefore, Cronberry serves as a push notification platform to all such businesses out there globally. However, there are numerous push notifications service providers in the industry, but we are the best. Be it the quality of service, or the pricing or other customized needs of the users, we take care of all of them. Captivate the feature of push notification for mobile app users and make them get more involved in the offers and exciting deals. We provide web/mobile push notification service to every type of business at the best market prices.
Get Quote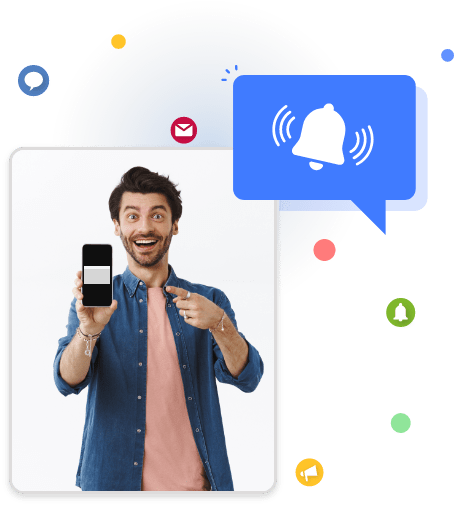 FEATURES
Customize every push notification capturing more user engagement
Our push notification tool lets you customize every single notification as per the respective user behavior. Thus, we help in creating pleasing mobile experiences by providing the push notification service globally.
Make every notification more like a personal message
The target audience feels more connected when they are addressed in a personalized manner. Therefore, by using our push notification tool you can gain more customer involvement.
Select from the bunch of pre-designed templates
With a good pinch of industry experience, we understand well the template designs that attract the lead, and thus, we offer multiple pre-designed templates to you for making your push notification campaign attractive and fruitful.
Select time frames for sending notifications
Sometimes, users feel annoyed when they are over-flooded with countless notifications. This usually irritates them. Keeping this in mind, we've provided our users with separate time frames wherein they can schedule the notifications' timing and schedule them as per their preferred time slots.