Just Dial
Boost the number of qualified leads
By capturing the potential leads' data you get through Justdial, you can enhance the engagement of both the potential and the existing leads, thereby boosting the overall number of qualified leads.
Extract leads' data from Justdial marketplace
By integrating our marketing automation software, you can easily extract the potential leads' profile information from Justdial and accordingly induce the target users' involvement by sending them regular automated notifications.
Captivate target users' interest by sending them regular updates
You can also segregate the leads' category as per their interests and demographic information collected from the Justdial marketplace, and therefore, send regular updates accordingly.
Keep track of the leads' activity and data analytics
Our automation tool lets you keep track of the potential and existing leads' activity so that it becomes easier for you to see which marketing strategy is appropriate to fetch more leads and what changes are needed to add on to bring positive results.
Get Quote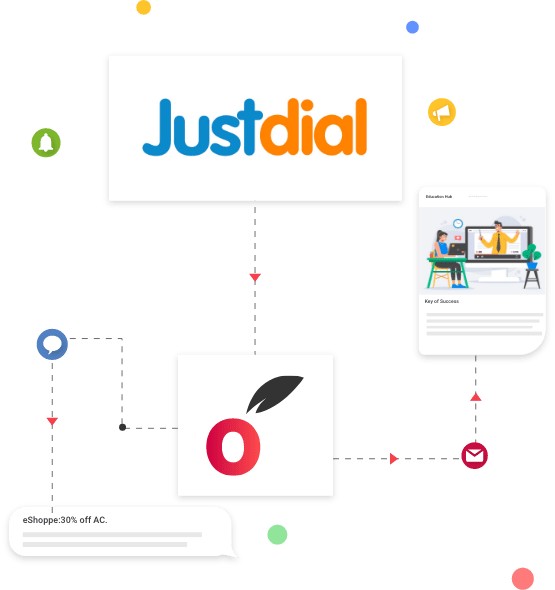 Capture all the leads with Justdial Integration Automation
Keep going and never miss any leads coming from Justdial.com by going for our Justdial API Integration Automation.
With the business industry getting wider, its dimensions are also getting dispersed. Secondly, the entire business structure has adopted smart ways of conducting marketing and captivating the reach. Thus, it calls for an effective marketing automation solution wherein all the leads that come up from Justdial.com get right into your gaze. So, at Cronberry, we provide the best-automated integration tool for the various industries to make it easy for the businesses to get actual lead conversions. Be it the service, or the quality and pricing; everything is perfect; you just need to contact us, and we're on your service to give you the best marketing automation experience.