Google Form
Personalize every offer & create a responsive deal
Customize the offers as per the behavior of your target user and create an effective deal, thereby creating a smarter and strong impact on the ultimate audience.
Customize each message to enhance connectivity
The user feels more connected when their tastes and preferences are understood well by you. Therefore, personalizing the message that you're creating is very important. We at Cronberry, help you create personalized email templates and SMS campaigns for your target audience.
Regular inspection on lead conversion rate
We let the user track the lead conversion rate as well. The user can check the leads stats and user engagement analytics anytime to understand where you're going fine and what else has to be done more to captivate user participation.
Detailed insights of the captured leads via google forms
Integrate your business with our Cronberry marketing automation software, and get deep insights into how well your campaigning is working. Get conversion reports and measure the success of your campaigns by analyzing the number of leads captured.
Get Quote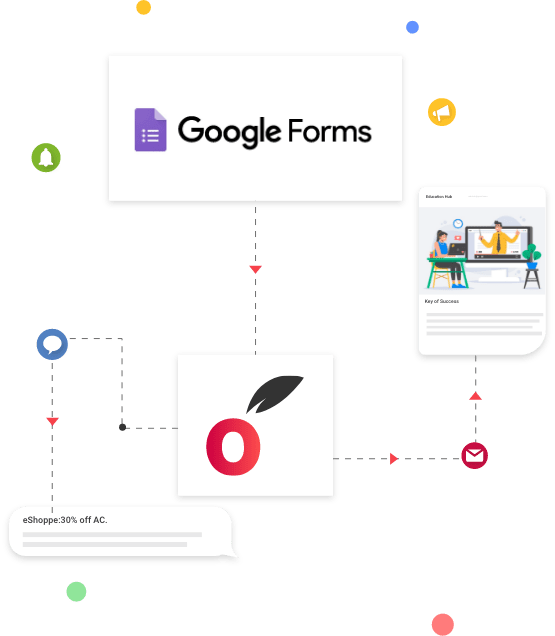 Make your every lead count and bring real-time conversions via Google Forms Integrations
Bring more progress to your business and make your lead management easier with our google form integration automation on the go.
In today's industry, no business can go on without hindrance if it isn't able to generate the leads for the goods and services it produces. So, to meet this agenda and boost the business, the marketing team goes through ongoing efforts and investing reckless efforts, money, and time into getting the leads to visit your website. Thus, form integration is a very effective way to get the leads on the nerve and grow the business by capturing the leads. We at Cronberry provide the users with google form integration service wherein all the leads that come up through google form integration will get captured and can be thoroughly analyzed and accordingly plan the marketing strategies to get connected with the potential leads, and thereby converting them into real-time leads. Be it the price or the quality of the service; we'll never let you down anyway and, therefore, letting you go ahead without missing any lead ever.