Integrate your Business with Professional Email Marketing Services
No need to send irritating bulk emails to large audiences anymore. Now, create tailored emails targeting the right leads at the right time and foster more to build brand loyalty.
Email marketing is always considered a quite preferred channel to interact with the potential and existing leads. We at Cronberry, have, therefore, imparted an effective email marketing automation software to make the communication more strong and impactful. When you browse several email marketing automation tools in the market, making a selection for the most appropriate one is quite difficult. Thus, our team of automation experts with years of expertise, have framed our services understanding every detail needs of the user. Moreover, we also integrate with the best email marketing service providers making the complete plan affordable and profitable at the same time.
Get Quote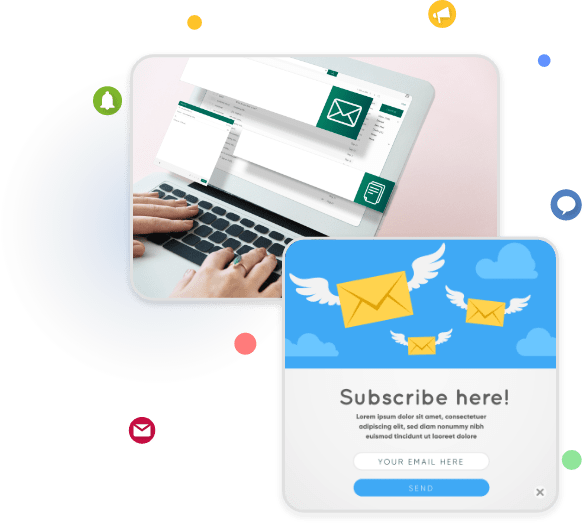 FEATURES
Customize the template & create a responsive layout
Customize your email template as per the behavior of your target user and design an effective layout thereby, creating a smarter and strong impact on the ultimate audience.
Regular check on conversion rate
We let the user track the conversion rate as well. You can anytime check the delivery stats and user engagement analytics to understand where you're going fine and what else has to be done more to captivate user participation.
Test first, and then proceed
In order to avoid any kind of misappropriation and uncertain variations, the user can test the email activity and visualize the preview of the email before sending it to the final viewer, making the process easier and scalable.
Personalize each email to enhance connectivity
The user feels more connected when their tastes and preferences are understood well by you. Therefore, personalizing the email template that you're creating is very important. We at Cronberry, help you create personalized email templates for your target audience.
In-depth insights via an email marketing channel
Integrate your business with our email marketing automation software, and get deep insights into how well your email campaigning is working. Get conversion reports and measure the success of your campaigns.