Shopify
Make regular lead inquiries by organizing campaigns
You can organize regular campaigns to retrieve the leads' information and then get back to them to understand the type of shopping preferences they're looking for. This way, you can obtain the required inquiries about the targeted lead.
Conduct lead-specific messaging
By analyzing various leads captured at Shopify, you can conduct the lead-specific messaging as well that will make the targeted user feel more connected and, thus, induce more chances of customer retention.
Interact with the leads by sending the right information at the right time
Also, you can send several important information related to their reports, new offers, discounts, exciting deals, or any other information to keep them updated.
Regular check on the conversion rate
We let the user track the conversion rate as well. You can anytime check the delivery stats and user engagement analytics to understand where you're going fine and what else has to be done more to captivate user participation.
Get Quote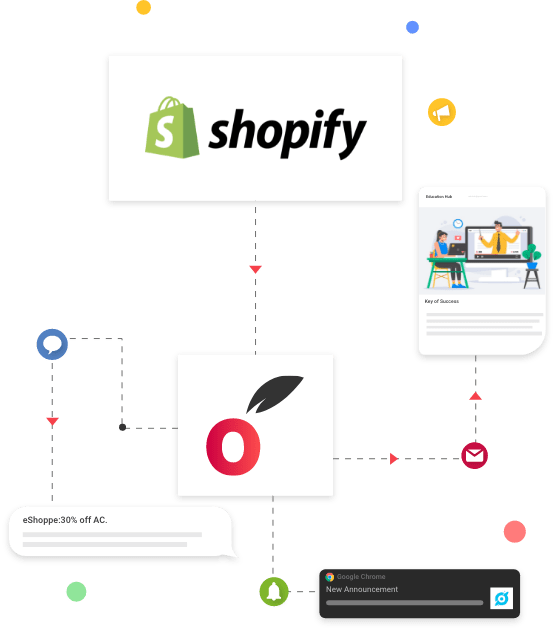 Manage your business leads effectively with Shopify Integration
Get all your leads captured right away with Shopify ecommerce integration automation tool and keep watch over every lead activity on the go.
With the businesses changing their ways, the ecommerce sector has also transformed in a very dynamic way. Thus, we at Cronberry bring an efficient marketing automation tool at your fingertips. By integrating our automation tool into your online business, you can improve the lead-retention rate and create more connectivity at the same time. You can send regular reminders and offer links, deals, details, and more by sending automated messages to the targeted recipients. Also, you can send relevant information to the interested leads, special offers as per their interest area, and other essential updates. The best part is that our pricing is reasonable, economical, and negotiable as per your needs. This will bind the trustworthy relationship between you and your customers (potential as well as existing leads) and also accelerate the conversion rate.